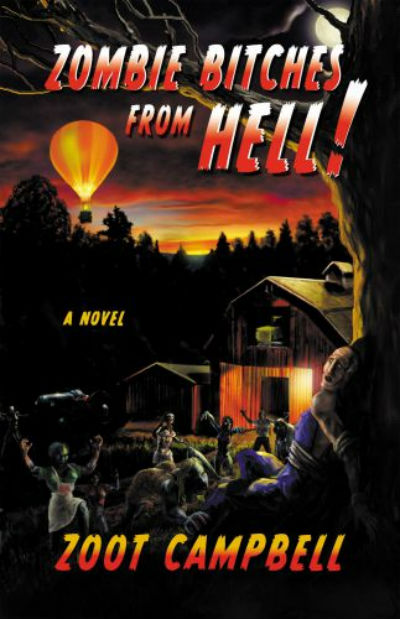 Zombie Bitches From Hell by Zoot Campbell takes an atypical, if not completely new, take on the zombie apocalypse—only women become zombies, and they're vulnerable via the ovaries instead of the brains—and stirs in the usual survival-fight plotlines, resulting in a decent afternoon-killer of a novel. It's confusing at times—at one point in the story, a little girl becomes part of the survival party without any mention of the rest of her family or why she was brought along, and Campbell doesn't make full use of his characters; at least once, the aformentioned little girl isn't even mentioned in a major scene, and later, she's used in a manner that would have had far more impact had she been better developed. I'd never unleash a novel on the world in this state, but it does get points for not being so bad I had to put it down unfinished.
Hero by Wrath James White and J.F. Gonzalez throws an elderly black civil rights activist into the direct path of a mixed-race hospice nurse with a psychopathic hatred of African Americans. Those familiar with White and Gonzalez will probably expect a bit more graphic nastiness than Hero provides. It's still plenty disturbing, however—reminiscent of Stephen King's Misery, though antagonist Natsinet is anything but activist Adelle's Number One Fan. While not as over-the-top as other works by these authors, this seamless collaboration packs in enough torture, dismemberment and murder to satisfy any discerning appetite.
While I find the novella to be Brian Keene's least fulfilling storytelling medium (I eagerly anticipate his every novel and have enjoyed every short story and comic he's written, though), The Cage feels most like a complete story of the ones I've read. A lunatic gunman walks into an electronics store at closing time, wastes two of its eight employees, and locks the other six up in the back room. He retrieves them one at a time, leaving the rest to wonder what's going on at the front of the store—until it's their turn, of course. Cage is part of Keene's Labyrinth mythos, though I'm not going to spoil it by mentioning which of the Thirteen the story involves. As with every Keene novella I've read, it left me wanting more (which I guess is more of a compliment than a complaint), but at least it read like a complete story, while a couple others I've read seem more like part one of a novel that would be seriously badass if finished.
Genital Grinder by Ryan Harding is a collection of eight stories most would consider "torture-porn." Prefaced with an introduction by veteran splatter author Edward Lee, Grinder is by no means in the same category as the thought-provoking but sadistic works horror fans have read by Wrath James White, Jesus Gonzalez, Richard Laymon and the like. For the most part, this collection is gross for the sake of being gross—and if you expect anything different from a book called Genital Grinder, I say the blame lies with you rather than the author. A notable deviation from this theme is the final story, First Indications, which I honestly didn't quite grasp. The rest of the book did exactly what I was hoping it would when I cracked into it, though—it entertained me for a few hours and made me damn queasy in the process. I particularly enjoyed the references the stories made to events taking place in preceding stories, and the recurring characters Von and Greg who appeared in several pieces. If I had to pick out one standout piece, it'd be Development, which actually did have a storyline and possibly the least gratutious gore of the whole book.
Quarantined by Joe McKinney follows Detective Lily Harris and her partner, Chunk, as they investigate a mysterious death inside the walls of superflu-contaminated, quarantined, San Antonio. When the detectives uncover the secrets behind the murder, the novel turns into not only a police procedural but also a survival-escape story. In many ways, Quarantined reads like a protoype for McKinney's Dead World zombie novels (walled-off southern Texas city, disaster outbreak, police protagonists), but this standalone novel takes place in a different world and doesn't feature any supernatural elements at all—it's conspiracy-driven, rather than a fight for survival against a physical threat. As usual, McKinney offers a compelling story drawn heavily from his experiences as a San Antonio homicide detective and disaster response specialist.